Show Notes
Hour 1 – SoundCloud
"The Foods that Built America"
A Docu-Series on The History Channel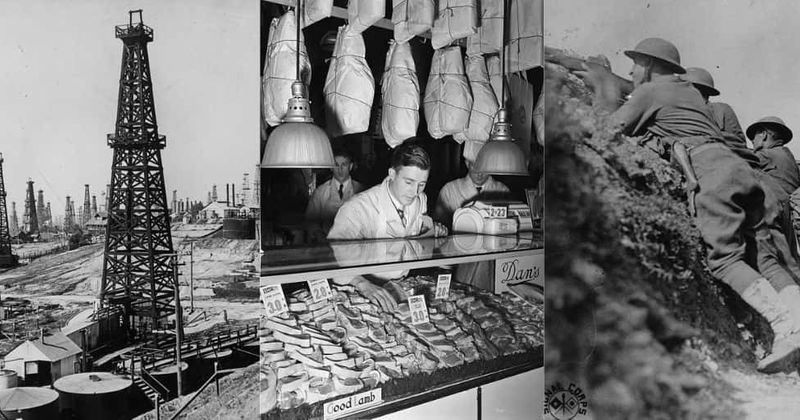 photo credit: https://meaww.com/ Full article
Examples:
Birdseye frozen foods – Founder Clarence Birdseye
Hershey Chocolate – Named after the founder, Milton Hersey.  The City came later and was also named after the Company.
Mars Candy – Named after the founder Franklin Mars
Fritos – Slogan
Lays Potato Chips – Founder Herman Lay
Kraft Cheese – Founder James Kraft
Haagen-Dazs Ice Cream – Slogan.  Created by Ruben & Rose Matteus in the Bronx NY in 1960
Heinz Ketchup – Founder Henry Heinz
Kellogg Cereals – Founder William Kellogg
Betty Crocker  brand – Slogan. A fictional character created by Washburn-Crosby company in 1921
Brain Health Awareness Month
How to Keep Your Brain's Sharpness.
Patrick K. Porter, Ph.D., an award-winning scientist who has devoted his career to mental health and researching the brain, joined John on how to take care of your brain.  One of his top tips is to exercise and get adequate sleep. He also touches on meditation and how to release stress and the impact of lightening on our body's functions. Check out his site: https://braintap.com/ Listen here to how you to can improve your brain functions and avoid a foggy brain.  Mobile users begin at 12:53
Dr Julie Marchiol with Ascent Health Center discussed in-depth Brain Tap. She has six of them in her office. It's a device that can treat stress, anxiety,  weight management, learning, and much much more. She is a provider for Dr. Porter's program.
Richard Battle received two awards for his book Navigating Life's Journey. John and Richard dove into the border crisis. Richard is calling on all Democrats across the country to stand up and help stop this. Biden and his policies are stomping on the American citizen.  Today's Crisis is Tomorrow's Catastrophe.
Howard University Clinton Global Initiative
John comments on how ironic it is that Kamala and Bill are talking about empowering women and who could be less qualified than Bill Clinton and how it is a slap in the face to women.
Kamala Harris will go one-on-one with Bill Clinton on Friday to talk about the impact of COVID-19 on women, and empowering women and girls in the U.S. and around the world as part of a Clinton Global Initiative event.

— Christopher Cadelago (@ccadelago) March 23, 2021
Jack Phillips' New Lawsuit
John comments on this new lawsuit and being sued again for LGBTQ biased. Autumn Scardina admitted she ordered the birthday cake on purpose to trap Jack. Article here.
Immigration
Bill From Boulder called in. Talked about his efforts in trying to immigrate to Calgary and how difficult it was. John spoke about his daughter's experience too. And what's in it for the Democrats in bringing in all of the illegal immigrants. Hint: control and power and finished off with the border wall and how the cartels are making 14 million dollars a day.
Militarized Police
John touched on how the police force should not be militarized. Mobile users begin at  41:41 Article: Pentagon's 1033 program allows the transfer of military equipment to police
Ghost Guns
Ghost Gun and what is it and the "loophole" – but there isn't a loophole. John talks about the AR-15. Related article.
Second Amendment
Dennis texted in about the real purpose of the second amendment and John followed-up. He also went into the history of the gun, and how we know "the good guys from the bad guys." Related article on gun control written by a liberal. Also Homer Talley on his son's death and the Boulder shooting.
How Division is Being Created in America.
Jeff called in and mention the website The Blue State Conservative. Talked about the article Who's shaking the Jar. How division is being created in America.
Maskless John Kerry
Dr. Patrick Moore, is the author of the book "Fake Invisible Catastrophes and Threats of Doom", joined John to discuss John Kerry, we're not sinking, fossil fuels, and more. 
Frontier Airlines
John talks about the initial IPO.