Show Notes
Health and Wellness Wednesday
Peace of Mind with Michael Baily of Michael Bailey Law Mobile Estate Planning.  Click here for the interview.
Men's Prostate Health
The statistics surrounding prostate cancer are equal parts demoralizing and terrifying. Projections from the American Cancer Society estimate that more than 248,000 new cases of prostate cancer will be diagnosed in 2021, resulting in more than 34,000 deaths.  Award-Winning Integrative Doctor and Best-Selling Author,  Dr. Mark Stengler, talks about preventive measures. You can find his book "Healing the Prostate: The Best Holistic Methods to Treat the Prostate and Other Common Male-Related Conditions" here.   John brought up the concern about sugar and how the public was misled about Sugar vs. Fat.  NPR reported on this and so did the New York Times in their article "How the Sugar Industry Shifted Blame to Fat"   INTERVIEW
Colorado's "Meat In"
Greg from Barber's Foods gave tips on how to make it a great day!  The book Greg recommended can be found here.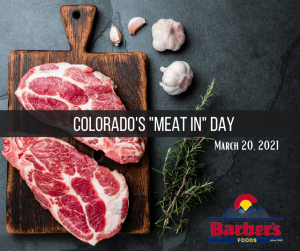 NAVIGATING THE ELECTION RULE CHANGES DURING COVID-19
Media analyst and best-selling author Richard V. Battle weighs in with John on how election rules have been changed by officials and overturned by unelected judges. Mass mailing of ballots, extending voting times and dates, and changing dropbox rules are making headlines. Depending on who you ask, voting will either be more convenient to protect everyone's health or create fraud and chaos by extending and loosening safeguards.
Side Note: The Headline of a  PJ media article, "Trump Vindicated as Judge Rules Michigan Secretary of State Violated Election Laws.  This ruling legitimizes a key claim made by the Trump legal team in its challenges to the 2020 election."
Government and Its Endless Wasteful Spending
Luke Hogg, policy analyst at FreedomWorks, breaks down the wasteful spending in his latest op-ed at RealClearMarkets. "According to analysis by the Committee for a Responsible Federal Budget (CRFB), an estimated one-quarter of the $4.1 trillion Congress authorized in response to COVID-19 has yet to be disbursed. In other words, while Congressional Democrats were busy authorizing nearly $2 trillion in new federal spending, federal agencies still had $1 trillion left to spend on COVID-19 relief. Instead of attempting to address this gross wastefulness and redirect stagnant funding to useful purposes, Congress determined to further mortgage our fiscal future by once again adding to the national debt." Interview here. Mobile users begin at 26:21
Gun Rights Victory in Boulder
Last week the NRA won a victory in Boulder that quashed the city's so-called "assault weapons" and magazine ban. Now the NRA is supporting and fighting a few bills in the Colorado General Assembly.  Lars Dalseide with the  NRA joins John in this interview. Mobile users begin at 11:27
Headaches Suck
Headaches account for more than 80 million doctor visits, 175 million lost workdays, and 4 billion dollars in over-the-counter medication sales every year. Dr. Ingram says the most common cause of head pain is an allergic reaction to food and the additives and preservatives in those foods. "Your favorite foods may taste good, but your body may go to war with them once they enter the digestive tract. This often triggers migraines," says Dr. Ingram. Click here for the interview with John. Mobile users begin at 25:32
Kia Sorento Review
Is the new Kia worth it? John says, "Yes!"